Commitment to achieving Net Zero
GMG Risk Strategies is committed to achieving Net Zero emissions by 2050 by already
implementing changes or planning changes. GMG Risk Strategies is a specialist public sector
insurance broker and risk manager. We have over 80 public sector clients, spanning NHS,
Local Authority, Police, and Housing Associations, and have insured over 100,000 vehicles
over the last 20 years. and our strategy will be to increase our insurance and related products
to electric and hybrid vehicles to reduce both GMG and our customer's carbon footprint.
Baseline Emissions Footprint
Following careful consideration, we have determined that FY2022 is a suitable, solid
baseline year that provides a representative view of our normal operations. Years prior to
2022 were impacted by the global coronavirus pandemic which had significant impacts on
GMG's operations as well as those of our customers and supply chain.
Baseline emissions are a record of the greenhouse gases that have been produced in the
past and were produced prior to the introduction of any strategies to reduce emissions.
Baseline emissions are the reference point against which emissions reduction can be
measured.
Although 2021 was our first year for reviewing our emissions for the Carbon Reduction Plan
for the reasons explained above, we are now using 2022. We recognise that our electricity
usage for the reporting period was low due to the COVID-19 pandemic and employees
working from home. Although we had a good understanding of our office-based Scope 1, 2
and 3, we feel that a fair baseline measure would be derived from using 2022 figures. As
can be seen below in our current emissions reporting, we have made efforts during reporting
year, (Jan 2022 to Dec 2022), to improve our data collection methods and have a better
understanding of our activities
scope 1 – direct emissions from the activities that are under an organisation's direct control,
such as fuel combustion, vehicles and fugitive emissions
scope 2 – indirect emissions related to the production of electricity, heat and steam that is
bought by the organisation
scope 3 – all other indirect emissions resulting from activities that are not owned or controlled
by the organisation (this includes emissions related to the use of consumer goods,
transportation, waste treatment, and employee trave
Below data derived from UK Government GHG Conversion Factors for Company Reporting
Electricity – 0.3867g of CO2e per kWh
Water – 0.149 kg of CO2e per cubic metre
car travel – 0.5524 of CO2e per KM
Home working – 0.34 of kg CO2e per unit
Baseline Year: Calendar Year 2022 (01/01/2022 – 31/12/2022)
Reporting Year: Calendar Year 2022 (01/01/2022 – 31/12/2022)
EMISSIONS
TOTAL (tCO2e)
Scope 1
3.10
Scope 2
2.14
Scope 3 (Included Sources)
1.36 This figure includes: Transportation and distribution 0.00 As an independent insurance broker, the service we provide is the insurance cover and risk mitigation strategies to vehicle fleets and car salary sacrifice schemes. We do not purchase or control the actual vehicles. These are owned by leasing companies who are responsible for transportation and maintenance operations. We have therefore reported 0.00 on this area of Scope 3 emissions as we do not transport or distribute any purchased products. Waste generated in operations. 0.00 Employee commuting 0.00 (WFH 1.36) Downstream transportation and distribution 0.00
Total Emissions
6.60 tCO2e
Emissions reduction targets
GMG Risk Strategies has set a target to be net zero by calendar year 2050 where targets
are set in all areas of the business. This includes but not limited to adopting better ways of
working by reduce employee commuting, reduce waste, better use of water, utilise
renewable energy, encourage usage of cycles or walking by employing local staff but where
not possible using transport similar to electric vehicles or public transport.
During 2023, GMG Risk Strategies will also be looking at new office facilities where 100%
renewable energy can be achieved, LED lighting and lower cost materials. Solar panel
usage for the office is being considered. The target to achieve this is by Q3 2023.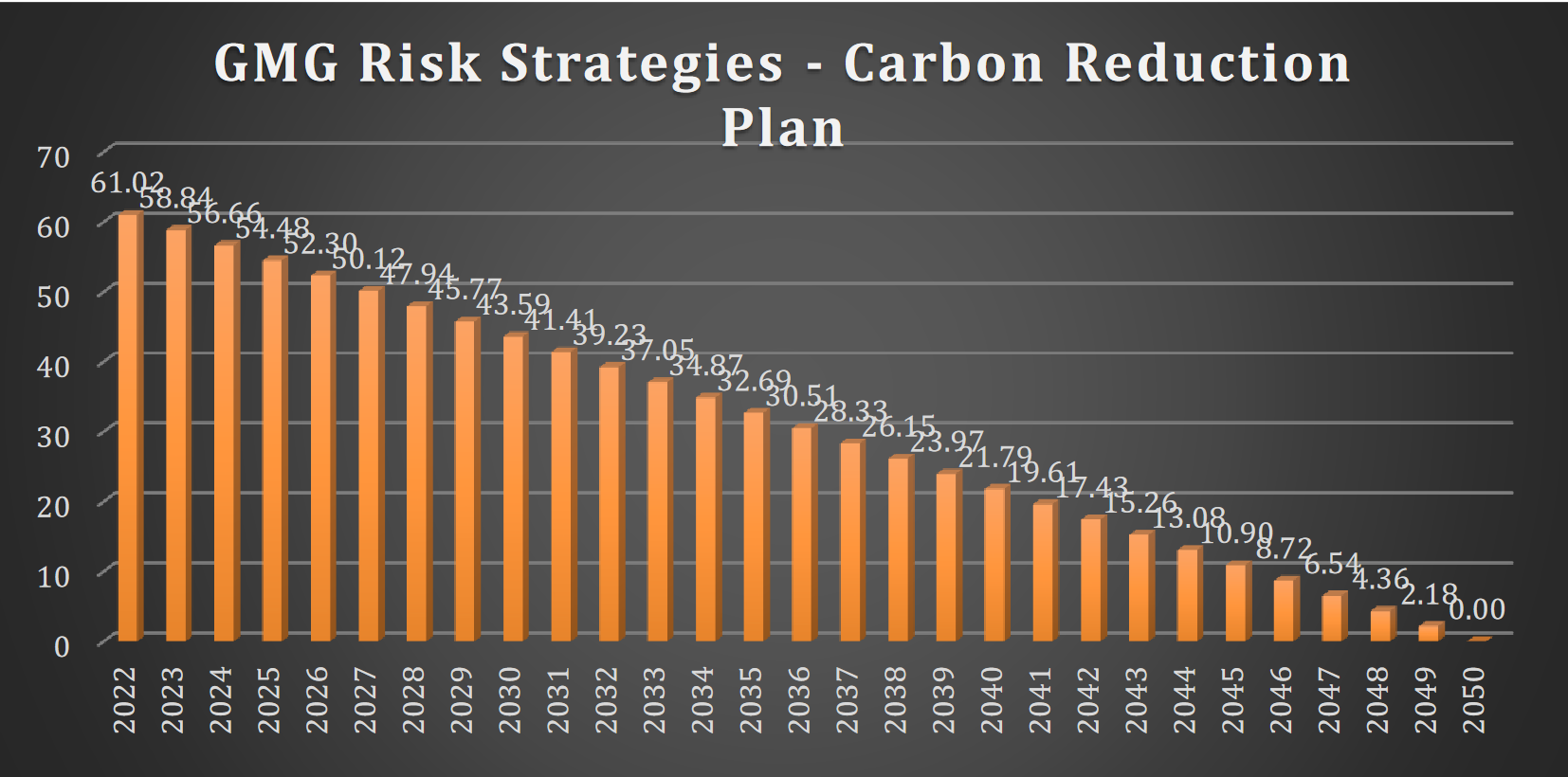 Carbon Reduction Projects for GMG Risk Strategies
The following environmental management measures and projects have been completed or
implemented. To give an indication of GMG Risk Strategies plans, below are the
achievements of 2022:
 Paper usage reduced by 100%. We achieved this during 2022 by investing in IT and
system to remove all requirements for paper and documents and we utilise full
secure e-technology to manage documents
From our total number of staff, 40% are now driving EVs due to the initiatives GMG
have put in place to reduce our carbon footprint.
4 staff work from home which is 80% of our total workforce
1 staff is office based – 20%
IT have replaced 3 older servers with 1 new server. This has reduced power usage
from 6kw/hr to 1kw/hr as the newer server is more efficient
A salary sacrifice scheme is offered to staff to further reduce our CRP and raise
awareness of staff driving less polluting vehicles
£500 donation towards tree planting for Surrey county council
For our customers
We have supported new and existing customers on initiatives to reduce CO2 by
offering insurance products to a higher percentage of vehicles via our salary sacrifice
scheme which normally represent EV, hybrid or more fuel efficient vehicles.
Our strategic account managers work with our customers to identify initiatives to
reduce accidents rates and ultimately, the number of vehicles that are involved in
accidents that require repairs.
Our risk reduction strategies are designed to create an appropriate environment for
the lease car drivers to encourage them, with incentives and penalties, to heighten
their level of awareness, reward good driving and choose low emission vehicles. This
is achieved in the main by premium reductions or increases depending on driver
claim history, private mileage and vehicle Co2.
Driver training and fuel efficient training classes with The Energy Saving Trust
Benchmarking enabling organisations to compare their performance, assess
effectiveness of policies and adopt best practice
Future carbon reduction initiatives under consideration
In the future we plan to implement further measures which will continue to drive down
emissions, below are some examples of areas under review:
Build awareness amongst our workforce of the impact of their decisions on our journey to
net zero.
Explore alternative heating solutions to further reduce scope 2 emissions when possible
(replacing dependence of normal electric source to solar.)
Reduce business travel by rail, and road through effective measurement and a sustainable
travel policy by using video calls such as Teams and Zoom.
Reduce emissions from vehicles used by employees for business travel. The technological
improvements in vehicles are set to continue alongside the growth in electric car ownership.
By 2030, no new fossil fuel cars or vans will be sold in the UK with most of the sales being
replaced by sales in electric vehicles.
We will establish a Carbon Reduction working group and will be meeting quarterly from
June 2023 to drive change and monitor progress
Declaration and Sign Off
This Carbon Reduction Plan has been completed in accordance with PPN 06/21 and
associated guidance and reporting standard for Carbon Reduction Plans.
Emissions have been reported and recorded in accordance with the published reporting
standard for Carbon Reduction Plans and the GHG Reporting Protocol corporate standard1
and uses the appropriate Government emission conversion factors for greenhouse gas
company reporting2.
Scope 1 and Scope 2 emissions have been reported in accordance with SECR
requirements, and the required subset of Scope 3 emissions have been reported in
accordance with the published reporting standard for Carbon Reduction Plans and the
Corporate Value Chain (Scope 3) Standard3.
This Carbon Reduction Plan has been reviewed and signed off by the Board of Directors.
1 https://ghgprotocol.org/corporate-standard
2 https://www.gov.uk/government/collections/government-conversion-factors-for-company-reporting
3 https://ghgprotocol.org/standards/scope-3-standard